Gaomon Pen Tablet M1220
---
---
Want to know more about the Gaomon Pen Tablet M1220? Then read on…
With the advent of technology many artists or drawing enthusiasts have started to look at digital devices to fulfill their inspiration but end up getting confused with the options available. If you too are one in such a situation then don't worry, we are here to help.  Gaomon has introduced many tablets with varying features, build quality and interface options. However, Gaomon M1220 is one of their best pen tablet options in under £100.
Do you want to know how?
Then please keep reading and get inspired with the Gaomon M1220. Indeed, there are good pen tablets from other manufacturers including those from Wacom or Huion, but these are either bulky, lack some important features or simply don't offer the value for money. The M1220 is a thin and ultralight drawing tablet having a weight of only around 0.5 kg. The M1220 is a sophisticated pen tablet which offers some advanced specifications and provides some cool features ideal for both beginners and professional artists. You can also utilize it to deliver online classes or present in conferences using remote working tools such as Udemy, Zoom, ClassIn and many more.
Disclaimer – This website contains affiliate links. If you find the information useful and click on a product link and make a purchase, a small commission will be earned by Big Red Illustration
---
The M1220 is a stylish and sleek 12-inch graphics and drawing pen tablet which provides cutting-edge capabilities on graphic designing, drawing, sketching, and painting. Not just that this tablet will enable you to perform Cloth Design, Calligraphy, Notetaking, Photo editing, E-signing, and Animation. The M1220 is a screenless pen tablet which quickly connects and adapts to both phones and PCs and can be used indoors or outdoors.
The lightweight and compact design can even enable you to transform into an artist from a driver if you are stuck in your car with something to wait for.
The M1220 looks elegant with a texture top patterned with a matrix of dots reflecting gradient colors. This pen tablet has 13 multimedia keys beautifully aligned on top as well as 8 customizable keys at the left. You may switch between programs, tune in to music or perform quick functions without interrupting the workflow, this helps to create a seamless working environment.
The Gaomon M1220 has a touch ring and a triangle center key to improve your productivity on various functions such as tuning the brush size, zooming the canvas, and scrolling the page. The touch button also supports the Windows Radial Protocol, which empowers you to take advantage of the Radial menu and realize higher performance. The Gaomon M1220 drawing tablet supports Android phones and MacOS/Windows based Personal Computers and Laptops.
Apart from drawing features the tablet provides an online whiteboard for teaching or signing and an online graphic board for training or demonstration. The M1220 is not sensitive to touch and responds to movements by the battery-free Artpaint AP32 pen which provides an error-free natural drawing experience.
The digital pen AP32 has splendid performance and numerous features which give the user an organic feel as if you are drawing or painting on paper. Using the Artpaint you can achieve natural reproduction of lines by varying tilt and pressure applied to the passive pen. The Gaomon M1220 pen tablet gives Type-C interface, which is the most prevalent medium for cable connection to modern PCs and mobile phones. M1220 is a non-screen drawing tablet, it must connect to a computer or an android phone to be used.
Though Gaomon M1220 does not come with any painting tool it is compatible with most paid or free drawing software.
Product Features
The Gaomon M1220 is a screen-less graphic tablet which after being connected to a phone or computer empowers you to perform …
Drawing
Sketching
Painting
Cloth designing
Calligraphy
Graphics designing
e-signing
Notetaking
Photo editing
Animation
M1220 graphics tablet comes very handy for beginners with its easy to use functions and at the same time provides advanced functions which are highly sought after by the professionals in digital art, sketching, graphics design, 3D artwork, animation, etc.
The compact and ultralight design of Gaomon M1220 makes it have a total weight of 505g and is only 7.6mm thin. The M1220 is an all-round drawing tablet best suited for both desk job and mobile work.
The M1220 like other tablets from Gaomon can be used in online education, e-conferences or remote meetings. This screenless tablet will give you complete control to demonstrate your artwork, present your documents or record differential equations.
The Gaomon M1220 grpahics tablet works with a digital battery free pen built on electromagnetic resonance technology. It comes with Artpaint AP32 pen which offers real-life user experience in addition to greater stability and control.
Gaomon M1220 is not sensitive to hand or finger movements and works only with the battery-free pen AP32, this gives consistent and error-free drawing experience.
It has 13 multimedia keys to facilitate your tuning of music, playing of videos as well as accessing to the most frequently used functions, such as taking screenshots, calling up the desktop keyboard and switching program, which not only individualizes the tablet appearance, but also improves the overall product experience.
---
M1220 graphics tablet offers 8 programmable express keys placed at the left side of drawing panel to streamline your workflows. Now it is no longer a necessity to connect your keyboard when designing in the PC mode, as functions of the key combos can be achieved with these express keys or hot keys situated on the panel.
In addition to 13 multimedia keys and 8 express keys, the Gaomon M1220 features a Touch ring with smooth texture and a Home key in its center. The touch ring supports Windows Radial Controller protocol and can be used to in place of hot keys to perform functions such as tuning the brush size, zooming the canvas and scrolling the page.
M1220 graphics tablet has excellent connectivity options and can connect to phones, tablets, or PC. Now if you want to build your designs on a bigger computer screen you can quickly do so by just connecting your Gaomon M1220 tablet via a Type-C cable, or even if you want to work in phone mode you can do so by connecting your Android devices through Type-C cable and OTG adapter which is included in the box.

The Gaomon M1220 graphics tablet is not a standalone product, it must be connected to a computer or Android phone to work. The M1220 graphics tablet is compatible with all mainstream operating systems and drawing programs. It works on phones or tablets with Android 6.0 or above and all PCs having Windows 7/8/10 or MacOS 10.12 or above.
The Gaomon M1220 drawing tablet is compatible with a large range of drawing, designing, animation and office applications including Adobe Photoshop, Adobe Illustrator, Adobe Premiere, Premiere Pro, Adobe LightRoom, Adobe After Effects, Adobe Animate, SAI Development Room, Clip Studio Paint, Corel PaintShop Pro 2020, Sketchbook Pro, Manga Studio, FireAlpaca, Open Canvas, Toon Boom, TVPaint, OpenToonz, Paper Draw, Power Point, GIMP, Zoom, Painter, Zbrush.
The Pen Tablet M1230 comes with additional drivers for Mac and Windows which can be downloaded and installed for free from Gaomon's website.
Gaomon M1220 is built with four anti-slip rubber feet that are applied to the back of the tablet. The thickness of anti-slip pads is precisely calculated which helps to provide a more stable drawing experience and aids in accurate pen tilt recognition.

Last but not the least now you can also do the digital signing with your original trademark signature.
Stylus – Battery free Pen (ArtPaint AP32)
The Gaomon M1220 drawing tablet comes with a battery-free pen which provides added comfort and control to the user. The artist can produce lines of different shape, width and shadows just by altering the pressure applied or tilt of the battery-free Artpaint pen. This Gaomon pen has 8192 pressure sensitivity levels and resolution of 5080 LPI (lines per inch) which creates a vivid work with more details.. Also, the Artpaint provides instant capture of every movement to facilitate continuity of imagination of the artist.
The battery-free pen also has an amazing report rate of 266 PPS (points per second), this is the number of times per second the tablet sends information about the stylus position & pressure back to the computer. This literally enables real-time capture of pen movements. The Artpaint battery free pen has a delightful tilt range of ±60° which is accurately detected by the tablet without any error occurred transferring digital art.
In addition to these users can choose different brushes and tilt the pen at various angles to add shadows to their sketches giving their artwork a natural feel. The Digital Pen also has two easy access buttons or hot keys which are configured as right-click and eraser by default.

Specifications
Model M1230
Color Black
Overall Thickness 7.6mm
Digital Pen Artpaint AP32
Pen Technology Battery-free Electromagnetic Resonance
Function Keys 8 Programmable Express Keys + 1 Home Key + 13 Multimedia Keys
Touch Touch Ring
Dimension 341.4×213.7×7.6mm
Working Area (PC mode) 258.4×161.5mm(12inch)
Working Area (Phone mode) 161.5×90.8mm(16:9)
External Interface Type-C
Net Weight 505g
Pen Pressure Sensitivity 8192 Levels
Pen Tilt Range ±60°

Pen Resolution 5080 LPI

Pen Sensing Height 10mm
Accuracy ±0.3mm
Pen Report Rate ≥266PPS
OS Support Windows 7/MacOS 10.12/Android 6.0 or above
---
What is in the Gaomon M1220 Drawing Tablet box?
The Gaomon M1220 graphics tablet ships with the following items in a standard product box:
Drawing Tablet M1220
Battery-Free Pen AP32
8 x Replacement Nibs
Pen Nib Clip
Type-A to Type-C USB cord
Type C OTG Adapter
Mini-B USB Adapter
Drawstring Bag for drawing tablet
Felt Pen Sleeve
Felt Pouch for Nibs
Hand Glove
Stylish Mouse Pad
Additional colored texture sheet
Quick Start Guide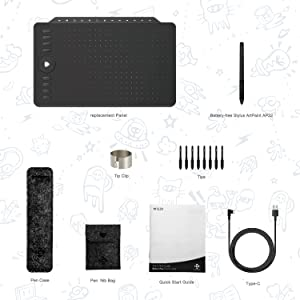 Pros & Cons
Like every other device or drawing tablet the Gaomon M1220 graphics tablet also has few drawbacks, but trust me its positives heavily outweigh its negatives.
---
Conclusion
The Gaomon M1220 12-inch drawing tablet is one of the best-priced products in the digital art market. This compact and advanced M1220 graphics tablet has 13 multimedia keys, 8 express keys and 1 touch ring which help deliver a performance and efficiency that beats the competition on price. The Gaomon M1220 drawing tablet comes with an advanced battery-free pen which offers a resolution of 5080 LPI which helps add attention to details. It is well suited for beginners or entry-level professionals looking to buy an advanced product for under $100. For professionals it could be a bit difficult to get comfortable with a screen less pen table, however it has a learning curve, and you start to draw naturally once you get the hang of it. If you are looking for saving on your initial drawing tablet then Gaomon M1220 graphics tablet should be product of your choice, however you may search Gaomon's product catalog and you may find a better purchase to fill your needs.
---
Frequently Asked Questions (FAQs)
Which tasks can be performed with Gaomon M1220 Drawing Tablet?
The Gaomon M1220 Graphics Tablets can be used for paintwork, illustration, 3D animation, graphic design, ID design, image editing, digital drawing, cloth designing, calligraphy etc.
Does it support distance learning or remote work?
Yes, the M1220 work with most online meeting Livestream programs like Blackboard Collaborate Ultra, Whiteboard in Zoom, etc.
Does it come with a warranty?
Yes, the Gaomon M1220 Pen Tablet come with one-year warranty (for non-human-made and non accident damage).
What is the default function of touch ring?
In addition to 13 multimedia keys and 8 express keys the M1220 drawing tablet comes with a touch ring. In non-Win10 system, the default function of touch pad is to zoom in/out and enroll forward/backward. Press the round key to shift among these functions.
With Gaomon M1220 how can you start working with a phone?
You can easily connect your android phone to the tablet with the OTG connector and press K1+K5 to activate Phone Mode.
How does the touch function work?
The touch ring supports Windows Radial Controller Protocol. Windows Radial could be activated via the driver, and users can long-press the center key to call up the tool menu and switch functions.
Are the 13 multimedia keys programmable?
The 13 multimedia keys can only use the default functions and do not support custom settings. These 13 multimedia keys facilitate your tuning of music, playing of video as well as accessing the most frequently used functions to enhance the overall creation experience.
What are the 13 multimedia keys for?
The 13 Multimedia keys from left to right are: switch between running programs / open the control panel / show the desktop /open the On-screen Keyboard/ take a partial screenshot /launch a context menu/lock the screen/previous song/pause & play/next song/muted/volume down/volume up.
Is there any way to save money on Gaomon M1220 purchases.
Yes, Amazon is currently offering 20% off on cart buy. You can visit the M1220 Amazon sellers url and save on amount paid.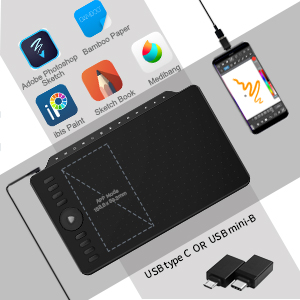 ---
Affiliate Disclosure
In compliance with the FTC guidelines, please assume the following about all links, posts, photos and other material on this website: Any/all of the links on this website are affiliate links of which The Big Red Illustration Agency receives a small commission from sales of certain items, but the price is the same for you. www.bigredillustrationagency.com is a participant in the Amazon Services LLC Associates Program, an affiliate advertising program designed to provide a means for sites to earn advertising fees by advertising and linking to Amazon.com & Amazon.co.uk. Pages on this site may include links to Amazon and its affiliate sites on which the owner of this website will make a referral commission.
FULL TERMS HERE Cookie preferences: cookie preferences
Written By Adam Rushton
Adam has made a name for himself in the illustration industry and is a passionate blogger and writer on the subject of art, illustration and graphic design.
His artwork has been featured in countless publications and used for very well-known media projects. As a professional illustrator for over 20 years, Adams media outlets, a wealth of knowledge, and experience enable him to consult and advise artists and illustrators in this country (from York and Manchester to Southampton and London) and all over the world.
---